We celebrated Christmas with my parents and grandmother today; and while it was lots of fun, it was also a long day of chasing around a couple of two year olds around. When I got home and got Anna to bed I went into the garage and got to work on the Falcon. A couple of nights ago I tried to line the lugs of the bike with a paint pen and did a terrible job.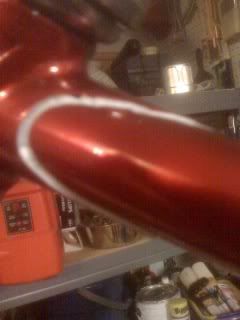 There looks like there is a dent in this one, but that's just reflection.
As a result, I have spent the past few nights trying to remove the paint from the frame. I thought that a paint pen might not be durable enough to do the lining in the first place, but the paint proved itself to be much more resilient than I thought. Niether mineral spirits or turpentine would remove the paint, so I thought I'd test the rumors about brake fluid and paint - sure enough, that took the paint pen right off of the powdercoat just as easy as you please. I had already spplied the decals to the frame, so I had to be careful not to drip. I very carefully used my best gun show purchase ever.
I bought this box for a dollar at a gun show years ago, and I have found so many more uses for long wooden swabs than I ever thought I would. I wish I'd spent $5 and bought 4 more boxes. With this project, I'm getting pretty low on my supply, and I know I'll never find them for the same price again.
I will take a couple more photos of the bike tonight. I have polished the metal bits going back on the bike, and things are starting to look pretty nice. I'm going to a bike shop to pull the bottom bracket off of the now stripped Fuji so I can start putting things back on the frame as I clean them. I'm hoping to have the Falcon together by next week, so look for a nice long photo post in the next few days.