Not too long ago, my brother asked me if I had a "spare" bicycle that he could borrow to ride to the gym. This is almost like asking someone if he has an "extra" cigarette. There is no such thing; every cigarette is meant to be smoked, and every bicycle is meant to be ridden.
Luckily for him, I did have a bunch of spare parts, including the Fuji frame that all of the Falcon parts were on originally. Doing a quick mental inventory, I told him I'd build him a bicycle, so I did. I made him buy the conversion kit to convert the bicycle to singlespeed, and away I went. I had all of the other parts I needed handy with the exception of a crankset and bottom bracket. I made some phone calls and secured a used FSA road crank and bottom bracket for $25, and began the build. First I had to convert the crankset to a single from a double. I had a lot of trouble removing the bolts from the crankset and busted my knuckles pretty well - those teeth are sharp!
I did pretty well for the first three bolts, but the last two were very hard. I don't know what tool I was supposed to use to hold the back There is a slot there, but it's much wider than a screwdriver - and holding a screwdriver sideways doesn't give you much leverage.
After I got all of the bolts off, and removed the inner ring, I installed the bottom bracket. The green you see there is grease. you should always put a little grease on if you are using this type of bottom bracket. If you don't, you will end up with a creak when you pedal.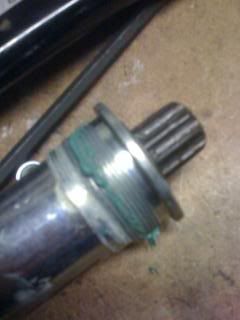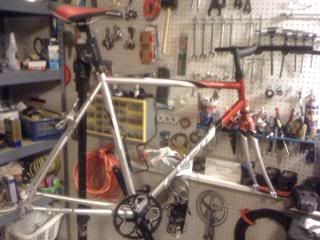 Here is the bike in the stand awaiting the rest of the parts.
I mostly deal in roadbikes, so I didn't have any spare grips around. I wrapped the bars with some recycled bar tape, and I really like the way it turned out.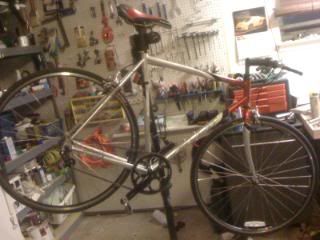 The bike is almost complete here - time for cables and tuning.
Once assembled, I had to take it for a couple of test rides, obviously. After taking a few links out of the chain to stop it from skipping, the bike was perfect. I rode it to the train station the next morning, presented it to him at work, and made him take this picture.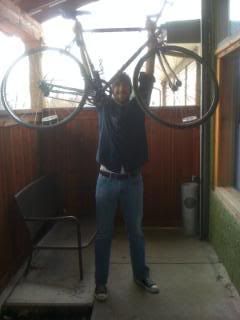 I liked riding the flat bar so much I'm going to rebuild my fixed gear with a flat bar instead of drops.