I said I'd ride today, and I did. We are going to the Dallas World Aquarium with my sister, mother, grandmother and the little girls this morning, and I had a few things I needed to take care of before I shut it down for the year. It was a cold, damp, fairly solitary ride this morning, and I like that. New Year's Eve is a time that I really do some navel gazing, and I like it to be kind of nasty when I am particularly introspective.
Train station. 7:18 AM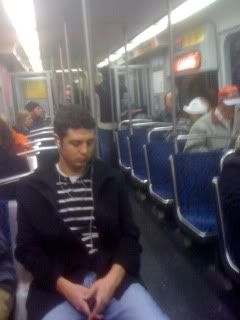 Fairly empty train approaching Citiplace.
Up the escalators. I'll see you in a few minutes, Whataburger worker.
Citiplace in the grey sky. I had a friend that used to come to Texas to be depressed and live on my couch, and he once wrote a great song called "North Texas Grey". I had a copy for a very long time, but it didn't survive the switch to digital music. This is what that song looks like.
I'll be off to the aquarium in a few minutes, but I look forward to sharing more rides on the train, and whatever other rides we take together. See you in 2010 -wow, that sounds
even more
science fictiony, doesn't it?