Here are some photos of bikes I have built over the past 12 months - just about every bike was purchased from Craigslist, and I taught myself how to build, fix, and paint. If you see just part of a bike, just click on the picture and you can see the whole thing.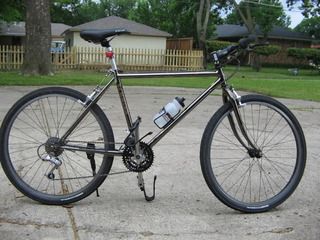 1987 Schwinn High Sierra - this was the top of the line mountain bike for Schwinn in 1987. The finish on the frame is a gorgeous "black chrome" that is really eye catching. I bought this one as a frame only, and built it up with mostly new old stock parts.
A 1980's Suteki Japanese frame - it no longer looks like this, as it is now a fixed gear. A great bike, one that I put several hundred miles on this year. I bought this as a complete bike that was caked in grime; I dont' think any part of the bike had been wiped down in at least 10 years. All Shimano 600 group.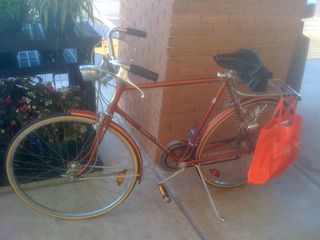 A 1974 Schwinn Suburban. This is my go to grocery bike - my great neighbor gave this one to me, and I love it. Sometimes it pays to be the old bike guy. All I did to this one was adjust the cables and oil the chain - I plan to clean it up this winter and have it shining by spring.
This is a 1970 Ross Central park 3 speed cruiser. I found this one at an estate sale, bought it for $20, put another $30 in parts into it, and ended up selling it for $160. I liked this bike, but it was just too small for me. The guy who bought it was height challenged, and it fit him perfectly. The 3 speed stick shifter was pretty sweet.
This was probably an eighties Huffy Monterey cruiser. I kind of bought this one by accident for $60, painted it and put tires on it, and ended up selling it for $120. I still see this one around sometimes, as I sold it to someone in my work neighborhood. This is a good solid bike, but just not to my taste. The girl who bought it thought it was super cool, so we were both happy. I painted this one with BBQ paint, so if her house ever burns down, the finish on the bike should be fine.
This was the first bike that I bought when I returned to cycling after my long hiatus. This is a 5 speed Dahon Boardwalk. I paid $100 for this one, rode the heck out of it, and ended up selling it for $175. I also used this bike to learn how to work on bikes - I had to repack all bearings and replace tires, tubes and cables. Truly, $100 wasn't much of a deal.
This is the bike that replaced the folder above. This is the ultimate commuting bike - built in pump (in the seatpost), 7 speed internally geared hub, chainguard, rack, and fenders - and it folds. I sold my Kia sedan in order to buy this bike - at $700 this is certainly the most expensive bike in the stable, but it is probably the most fun as well. Those little wheels make it very flickable. Sometimes when I barbeque, I'll ride this bike around my driveway.
I have a couple more bikes, but I don't have photos on this computer - when I get them, I'll put them up here as well so you can see exactly how crazy I am.