It's the coldest day of the year, and I have been very lax, driving to work every day. I am currently in the midst of a couple of winter bicycle related projects; I'm rebuilding my fixed gear Falcon classic frame into a full modern sti geared road bicycle, and my Suteki is getting all of the fixed gear gear bolted onto it. I am adding a freeweheel as well, so I can also throw some pedals on and cruise around the neighborhood, should I feel the least bit athletic. My Mom loaned me her indoor trainer, and I have used it a couple of times, but I'll tell you that 4:15 in a very cold garage is no place and no way to ride a bicycle. I'm doing wuss intervals, just trying to build back some fitness. It's supposed to be nice next week, so I will get in the garage at least 3 mornings.
My bicycle projects and indoor training are really the only bike related things going on now. I do have a new tiny bike, and I will leave you with that and a couple of other photos until I come back again. I haven't forgotten this blog, I've just been trying to figure out what to do with it. At the very least, check in every once in a while.
Here is a photo of the Falcon ans I brought it home. The bike is getting a complete repaint and new decals. It's a very nice frame, built in the late 60's in England.
I've currently got everything but the crankset and bottom bracket removed, in anticipation of getting the frame set to accomodate a modern drivetrain, and getting the paint put on.
Here is a nice photo from an afternoon hooky ride in the fall.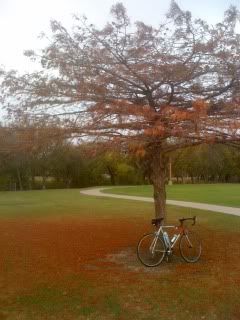 The wheels and drivetrain are coming off of this bike and going on the above frame.
I don't have much more to share with you - my mileage is pitifully low, as is my fitness level.
Until next time.