I rode the train yesterday, and while it was cold, it was a nice ride. I got my folder out and braved the 35 degree cold to run to the station in the donzerlee light. The morning ride in was cold but uneventful, except for one of those hard to define perfect music moments; for most of the ride my iPod was picking one great song after another, each song making me tap my feet and sing along.
My work day was pretty much the same as my commute, including the "cold" part. I work in a very old building that holds no heat and is full of holes, so I was so very cold all day, just miserable. I unlocked the office door at 8:10 and it was 39 degrees - by the time my brother came in at 9 o'clock our building was a balmy 49, and that might have been our inside high all day.
The evening ride home was pretty much unventful, save one small exception;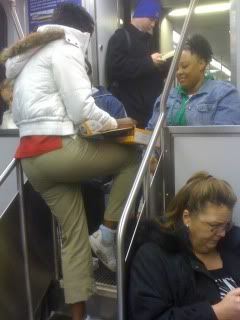 This young woman was selling Worlds Finest Chocolate bars, and she came walking through the car like a beer guy at the baseball game, holding her box high in the air and shouting "Who wants a candy bar?". I was the first one to bite; I love chocolate, and I love World's Finest chocolate bars more than most. I gave her two dollars and picked my two candy bars - as I finished, she added "The money goes to Haiti" almost as an afterthought. To be honest, I wasn't really concerned with who the money was going to, as long as the end result was 2 candy bars in my pocket. After I broke the seal, she must have sold another $30 worth of candy to just about everyone in the car. As we all sat munching afterwards someone made a comment about selling the same bars for little league, and very shortly about six or seven of us were all reminiscing and laughing about our common experience with Worlds Finest. I wonder how much money she made selling her bars on the train, and I walso wonder if each car she passed through had the same sort of conversations afterwards. It was a nice end to an otherwise completely uneventful day. Plus, the chocolate was tasty and fueled my cold ride home.
On a personal note, happy birthday to my sister. I remember the night she was born - Mom and I were watching Circus Of The Stars and I missed the trapeeze act because I had to go next door and wait while Mom went to the hospital. Happy birthday, Corrinne.