When I woke up this morning, it was raining. Unfortunately, it stopped raining by about halfway through my drive to the office, so if I'd left later (which is totally an option, as I own the joint now) I could have ridden in. I will, however, get a ride in either this afternoon or tomorrow, for sure.
So where does December 31st find me this year? I have made some big changes this year that have kept me from blogging, first and foremost. I left my job working for someone else, and went out on my own with my brother. This has been a huge adventure, and I am very happy with where we are ending the year. When I wrote my New Year's Eve post last year, I was riding a folding bike to an office that I frankly hated, working for someone I despise. This year finds me with that folding bike loaned to someone else, and me sitting in my own office, patting my back for all of he hard work I have done to make our company successful in the eight months since we opened our doors.
That move has led me to riding my bicycle more, honestly. I started this year riding the train, but when we left the old office, I found myself without a whole lot of early morning work to do, which allowed me to worry less about being in "on time" and gave me the freedom to experiment with riding in. My commute path has evolved over this eight months to take me about an hour each way, and my route is mostly bike paths and lanes, all the way in. The commute has changed me a good deal, both physically and mentally. There were days in the high heat of summer when I thought I wasn't going to make it, and there were days in the fall when I did my best to stretch the ride a little, because it had become so much fun. The old saying "ride to live, live to ride" has started to make more and more sense to me with every revolution of the pedals. When I ride I feel like I am twelve years old again, and that feeling gets harder and harder to find as I get older.
This year hasn't been all rides and roses though. Shortly before I left the old job, my brother in law,
Reed Hickok
, passed away from a very rare disease at the age of 45. Reed was a really great guy, and one of the original reasons I took up bicycling. Reed was a very serious cyclist, who rode a ton more than me, and in fact did the
Triple Bypass
ride. In 2008 I asked Reed if he would be willing to ride a century with me in September of 2009. He was excited about the thought, and I was excited about getting to know him better and a little daunted by all of the work I would have to do to get ready. Unfortunately he had a bad crash in '09 that created (or uncovered) complications with his disease, and by September he was no longer riding, and in April of 2010 he went to join the great peloton. Reed's death hit me harder than I let on to most people that know me - Reed was the type of person that you meet very rarely in life, and he was one of the most athletic people I know. The fact that he could die gave me great pause. Allez, Reed, Allez.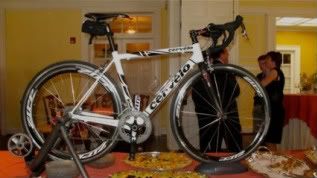 I also met some other great bike people this year, and they got me into some of the more "social" riding around Dallas. I met Hubbard through a blog that I read (and now write for occasionally) when I offered to help him work on a bike he had acquired. He and I emailed about getting together for several months before we actually managed to make it happen. Since then we have become very good friends and he has taken me on some of the more fun rides I have done. We rode to the State Fair together, rode in the tweed ride, and just kind of generally hung out on two wheels and explored Dallas in a way that I would never have done if I hadn't gotten to know him. The type of riding I prefer involves hard effort and maximum speed, if at all possible. Hubbard has taught me that it's ok to cruise around, and that that is just as important a part of bicycling as the hard riding I like to do.
I have also become better friends with my neighbor this year through bicycling. It took me a couple of months to convert him to a bicycle commuter, but I'd say that now he is more hardcore about it than I am. He certainly rode more days that I did this year, and he has big plans for next year. I hope I can keep up, and certainly hope that our friendship continues to grow, on and off the bikes. I also hope that I can introduce him to some of these more social rides that I have learned to enjoy. He turned me on to the local criterium races that happen in our neighborhood, and I hope I can repay the favor by teaching him how important a flask can be on a casual ride.
I find myself in my office as the year comes to a close, and as usual, there have been ups and downs over the past twelve months. Looking forward, I do have some bicycle related goals for the coming year, aside from "stay alive and ride more". I'm going to share them with you now so that we can revisit them this time in 2011.
1. Increase my commuting time. I was riding two days a week, maybe three this year. I would really like to ride into work at least three days a week, and more if I can swing it. I see this one happening.
2. Ride at least two "social" rides this coming year. I rode the
BFOC
Tweed ride this year, and I'd certainly like to ride that and at least one other. In addition, Hubbard and I have been talking about riding a rail to trail conversion, and I really want to do that.
3. Ride two organized century rides this coming year. I rode the
Wish 100
this year, and I'd like to do that one and a true century, probably the
Wild West
in Waco. I'd like to drag Hubbard along for one or the other, but truth be told, when I ride hard I prefer to ride alone.
I also want to blog more, but I'm not going to make that one a resolution - unfortunately that one is dependent on lots of different things that are sometimes out of my control. My life may not be interesting enough to write about more than once a month. I will resolve, however, to make an effort to write more here. I'm not going to quantify how often that will be, but there will be new things here before December of 2011, I promise.
I'm going to leave you with a photo of myself that I like a lot - taken at the tweed ride this year.
Happy New Year to you all, and I hope that we meet again in 2011.